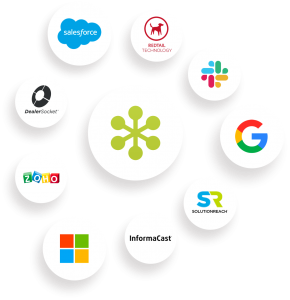 Keeping up communications doesn't have to be difficult during the lockdown. GoToConnect is a reliable, secure and flexible cloud phone system that takes out the headache of needing multiple tools to do different things. With GoToConnect you're able to make calls, host meetings and send messaging — with video conferencing included, too!
GoToConnect is purposefully designed to be intuitive and simple to use, making it the perfect conferencing solution for those working or teaching from home. Setting up and configuring GoToConnect is easy, and anyone can do it by following the call routing instructions on the easy-to-follow visual editor (we're always on hand if you get stuck).
If you're on the move (venturing from the study to the kitchen!), you can easily switch between your desk phone, desktop app and mobile app, to stay connected even on the go. It's like you're there in person, thanks to GoToConnect's HD video conferencing, that's included in every licence at no additional fee.
Packed with all the features and more that you'd expect from a conferencing solution, GoToConnect allows you to have a safe, engaging environment, whether that's for learning or working. Jump from home to office, call to video and from one device to another.
Implement the most value for money conferencing solution, and begin reaping the benefits of GoToConnect's 100+ free features available to all its users. With low monthly costs and a nifty set-up, you can start utilising GoToConnect right away from the comfort of your home. Work safely and efficiently during this time of lockdown, without having to compromise your meeting or conference quality.
See how GoToConnect can provide you with an integrated and effortless conferencing solution. Find out more and by contacting the friendly Duotone team today to discuss your needs and request no-obligation quote.