Digital Signage Helping Covid-19 Awareness: Digital signage has many uses, from promoting your latest products and offers, to informing your staff and customers of upcoming event. However, the Covid-19 Pandemic has brought possibly one of the most important usages to date. For a business keeping interacted with your customers during this time is nearly impossible. Keep in touch from your storefront, update messages and opening times as often as you need to. There are also 24-Hour Digital Signage options for those businesses that have a demand for their business around the clock.
Types of Digital Signage: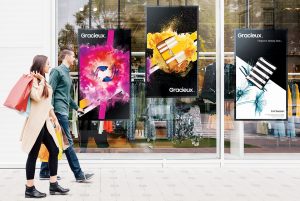 Window Mounted Displays: These are outward facing displays which people walking by your business can see. They have a high
brightness allowing them to be seen clearly in all weather conditions. This is the perfect device for an area with high footfall, the brightness allows the imaging to be viewable in any type of weather.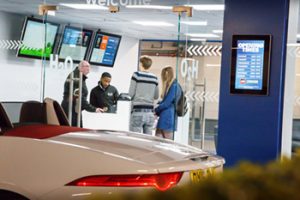 Indoor Mounted Displays: This type of signage is mounted to a specific area inside your business, i.e a wall or ceiling. These units are perfect for displaying in store promotions, to staff and make fantastic menu boards.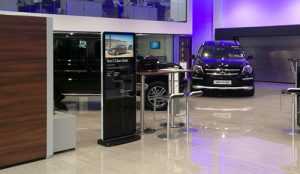 Freestanding Indoor Totem: This type of display is fantastic for ever changing environments. These devices are fully mobile and can be moved around your business only needing a standard plug socket to power up. These are perfect for showrooms, store floors or hotel lobbies.
Digital Signage Software:
Built in Software: Some of our screens come with a built-in software solution on them which has been carefully created with you in mind. This software allows you full control over the devices content by choosing Images, Videos, Weather Display, Live Feeds etc. They are intuitively built allowing you to simply update their content without stress.
Standalone software: This type of software turns any device into a digital signage display allowing you full control of its content. This software is through a license allowing you to control the display yourself remotely or onsite. This software allows you access to a digital signage platform with takes you step by step through updating your content.
How does this help my business during Covid-19?
Not only does digital signage allow you to display the latest guidelines to your employees, it also allows you notify your customers about changes to your business.
You can update the device from home about the following:
New opening times
New opening procedures
New contact information
Moving to online business
Notify about new products or product specials.
Digital Signage Helping Covid-19 Awareness – Contact us today and speak to a member of our team for the best solution for your business.