Benefits of High Brightness Digital Signage
Next time you're walking down a high street, driving on a motorway or enjoying a drink in an airport waiting lounge, take a quick look around. You'll more than likely find yourself surrounded by high brightness digital signage, which could be detailing travel information to you or just trying to flog you the latest fashion piece.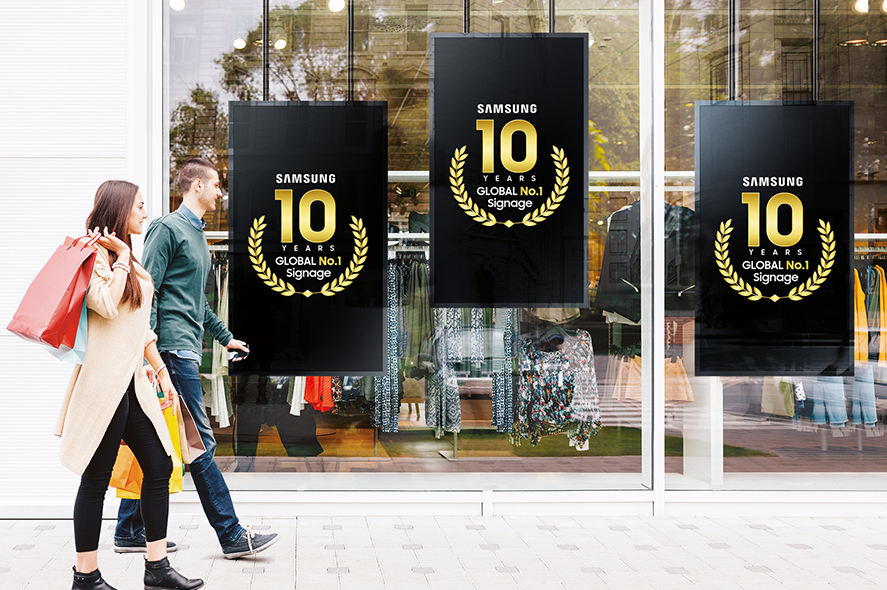 Static, papered billboards and displays just don't cut it anymore. We're a nation of very busy people and when we don't have our heads down rushing to our destination, we're probably days deep in our Facebook feed, completely distracted from our external surroundings. This is why high brightness digital signage is so important to the advertising world — it captures the attention of passersby and stands out amongst littered paper-based advertising in busy spots. There are plenty of reasons high brightness digital signage is becoming increasingly popular, with the likes of Samsung, our partners at Duotone, relying on digital signage to communicate with its customers. Here are just five reasons high brightness digital signage is crucial for your marketing and advertising efforts:
Increased Brand Visibility
When it comes to self-promotion for your business, there's a lot of marketing noise to cut through. Every company wants to increase brand awareness, whether that be by advertising on the TV or radio, or plastering print with features. High brightness digital signage can help you cut through that noise and gain the attention of the public. Digital signage gives you the opportunity to create something more aesthetically pleasing and eye-catching and is a much more modern approach that's suited to a digital-forward population.
Eye-Catching Designs
Traditional media means can be very flat and two-dimensional. With high brightness digital signage, you have the opportunity to create something kinetic with a huge colour palette available. The signage screens used at Duotone are incredibly crisp, meaning your colours are sure to radiate from your ads.
Digestible Information
High brightness digital signage allows you to display your information in a different way; a way that's much more digestible for passersby and busy shoppers. Your digital signage can feature infographics or advertisements that can animate and move to display a wealth of information. High brightness digital signage helps capture the attention of the public and maintain it, meaning it's easier than ever to communicate your message.
Low-Cost Production
With high brightness digital signage, there are no printing costs incurred by the business. Not only does this mean it's better for the environment, but also that it's a more cost-effective method of advertising. There's no need to pay printers for mock-ups and countless versions of flyers and posters — all our signage at Duotone is digital, meaning it's simple and often just a one-off payment to get your information out in the public.
Interchangeable Messaging
We understand that marketing and advertisements change all the time. An offer your running may only be valid for a limited time, or perhaps there's been a big travel disruption that you need to quickly get up on your high brightness digital signage. This is just another benefit of going digital, as messaging is quickly and easily interchangeable. There's no need to amend leaflets and take another trip to the printer — all digital signage can be altered remotely.
Are you interested in learning more about high brightness digital signage and how it can work for your business? Get in touch with our friendly team at the Duotone office, who will be happy to answer all your questions and provide a no-obligation quote.