Do you know the importance of Digital Signage for Schools? School's are a hive of activity, especially in Ireland. Currently, the average classroom size in Ireland is 25 pupils per one teacher. If you do the math, you'll quickly realise the schools and colleges in Ireland are some of the most densely populated compared to those in Europe. That's a lot of students and, in turn, a lot of parents, guardians or carers that require information about school goings on– parents day, non-uniform days, extra curricular activities and school trips, to name a few.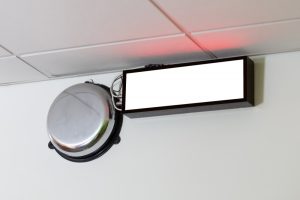 It can be difficult to keep everyone in the school system on the same page when it comes to communication. Teachers are often much too busy, students probably don't pay much attention to school emails and letters and there's every possibility their parents, guardians or carers might miss out on vital information because of this.
This is where digital signage can step in. Bright and bold digital signage pieces can be installed in corridors, classrooms, break-out areas and receptions of schools; reaching every visitor to campus at each touch-point of their journey. Teachers can have their attention drawn to staff messages in the teachers lounge, parents can see relevant news and actions in the reception area and pupils can see the information they need to and from classes.
At Duotone, we create digital signage to help improve communication. Digital signage isn't just for commercial purposes, it can be pivotal in relaying messages and information in day-to-day scenarios. The flexibility of digital signage means that circulating important school information doesn't have to be a chore; rather than distributing paper letters to each pupil individual, instead create an attractive digital message that will catch the students eyes and encourage word-of-mouth marketing. With Duotone, students, teachers and parents can all stay informed effortlessly and seamless with the use of digital signage.
With Duotone's leasing option, you can get your new digital signage in place and installed for as little as €30 a month. Get in touch with our friendly team at the Duotone office, who will be happy to answer all your questions and provide a no-obligation quote.