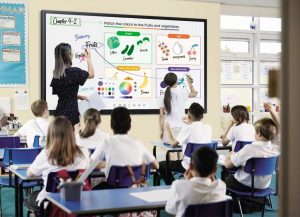 Perfect for encouraging collaboration in the classroom or boardroom, Interactive Whiteboards or E-Boards are a popular piece of technology for those wanting to improve engagement amongst their class or team. At Duotone, we stock a range of E-Boards suited to all needs.
E-Boards boast a range of benefits, with one of the biggest being just how much is possible with an E-Board. E-Boards don't only give access to a digital whiteboard, they allow you to browse the web, read USB files and plug in a wide range of devices, including laptops, visualisers or entertainment sticks such as Apple TV. An E-Board provides everything required to effectively collaborate and transform your room both physically and remotely.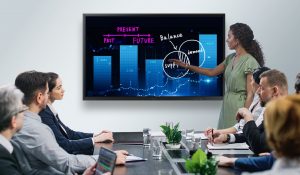 Collaboration is another big draw of E-Boards. Engage with your colleagues or class when information is being discussed, in real-time. Eradicate the need for back-and-forth offline presentation and document sharing. Files can easily be shared, edited, accessed, and saved on the E-Board, too, meaning there's no need for multiple devices.
Easily annotate over work and documents in real time using E-Boards, with the option to hand-write notes and lesson using the Interactive Whiteboard. The interactivity of E-Boards is overall what improves creativity and communication within a team environment, making it a popular choice for schools and universities looking to encourage students to be more 'hands on.' There are a range of E-Boards now readily available, suited for different budgets and purposes. You can view the E-Boards supplied by Duotone here, and find out more about each individual product by clicking the 'Learn More' button.
Uncertain about whether an e-board is right for you? Still have unanswered questions? Get in touch with our friendly team to discuss your requirements and receive a no-obligation quote.