Where do we start with Prometheans new Elements series? The new series which contains the Titanium and Nickel models has just been released, and the specs are amazing. "The Elements of Success" was certainly a fitting title to the Partner Conference we attended this September.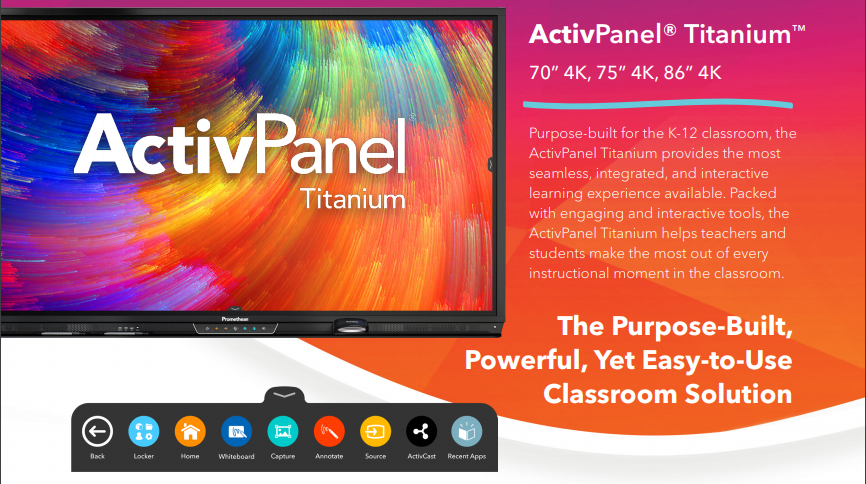 · The new Android 8 operating system provides speed, security and reliability with 4GB of RAM, 64GB of storage and Gigabit LAN.
· Teachers and students can collaborate with up to 20 simultaneous touch points and simultaneous pen, touch, and palm erase.
· Teachers now have quick and easy access to the Unified Menu, volume controls, source selection, and more.
· The Titanium has an all new Vellum writing technology with authentic touch and feel to write as natural as possible.
· Wi-fi and Bluetooth built in for diverse network needs.
· Award-Winning Lesson Delivery Software ClassFlow® and ActivInspire®.
· Easily deploy remote over-the-air updates, enrol new panels, set permissions, and more.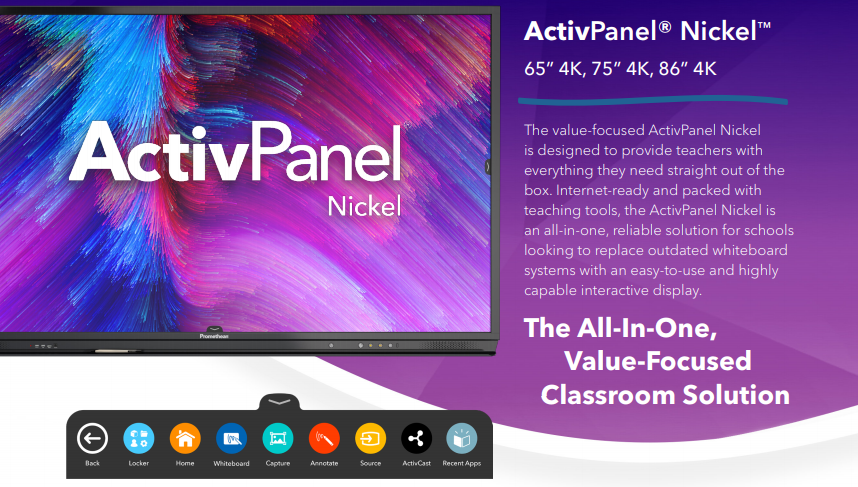 · A more Value Focused Approach to the Elements Series
· A new Android 8 Operating System with 2GB of RAM and 16GB of storage.
· Wi-Fi connectivity provides the flexibility required for diverse networking needs and offers more classroom mobility.
· ActivPanel Nickel's controlled, multi-device mirroring lets teachers move freely and teach from anywhere in the classroom.
· Draw, highlight, and annotate over any content from any source.
· Add excitement to any lesson or activity with the customizable Spinner and Timer apps.

· The Promethean design was influenced through teacher feedback.
· New Pen was designed to be a high-quality pen eraser on the end.
· Larger shelf as teachers noted their equipment fell off the smaller one.
· The mid console was designed at 30 Degrees for easier viewing.
· New menu can be dragged from Bottom, Left and Right of the screen.
So if you want to be up-to-date with the latest advancement in the Promethean range, you may now ask "Where do I get mine?". To keep it short and sweet, Duotone is the answer. Contact us today to arrange a quick consultation with one of our AV experts.
Email: info@duotone.ie
Phone: 01 554 7899