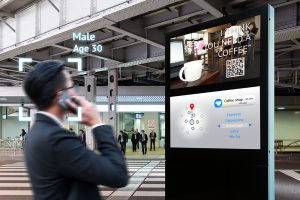 At Duotone, we offer a number of different signage solutions. A signage solution that may be ideal for a bustling shopping centre, is likely to be different from the signage solution required for a boutique hotel. Duotone boasts market-leading partners to offer solutions, including Samsung, NEC and LG, meaning that we have plenty of options perfectly equipped to serve your business.
Most people picture signage as a simple LED screen that could be interactive, or just exists to serve information to the public. By using the best products, Duotone can offer a range of signage solutions. As well as modest LED screens, Duotone are also experts in creating large-scale video walls that enable 4K resolution, and projectors that are set-up to offer a visual addition to any classroom, boardroom or meeting room.
One of the top-selling brands from Duotone's arsenal of partnerships is NEC. The latest NEC products on offer come in the form of the new P and V series; digital signage solutions that bring a whole new dimension. As well as a modern and slim design, the P and V series of signage solutions are open to input from Raspberry Pi, meaning the possibilities on your screen are endless.
Signage solutions are often implemented to display updates, advertise, give directions or update with RSS feeds and weather information. Duotone works with market-leaders in signage solutions, such as NEC with its P and V series, there are more possibilities than ever for your signage solution, and we're here to make it happen.
With Duotone's leasing option, you can get your new digital signage in place and installed for as little as €30 a month. Get in touch with our friendly team at the Duotone office, who will be happy to answer all your questions and provide a no-obligation quote.