Top 10 Video Conference Equipment
1. Logitech Rally (Large Meeting Rooms)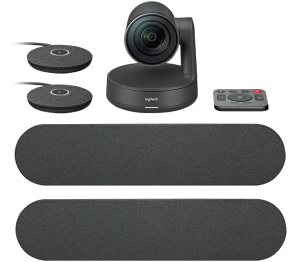 · Rally's 4K video camera works on its own or with modular USB peripherals.
· RightSense software enhances voice clarity, auto-frames faces and corrects tricky lighting.
· RightSight AI technology auto-pans/tilts/zooms for perfectly framed video.
2. Logitech Group (Mid-Large Meeting Rooms)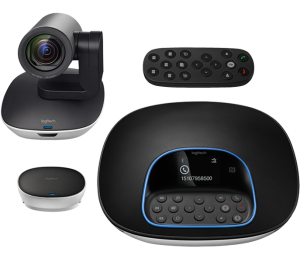 · Autofocus High-precision lens automatically focuses on people and objects.
· 90° field of view with mechanical 260° pan and 130° tilt
· Conference participants can converse within a 6 m/20' diameter around the speakerphone
3. Logitech TAP (Small, Medium and Large Rooms)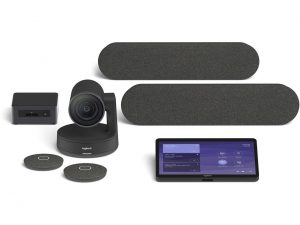 · 10.1-inch diagonal display with 14-degree angle display with anti-glare.
· Built-in motion sensor saves power when idle, and powers on when a person approaches.
· The sleek, fan-free design provides a comfortable 14° angle for easy reading while creating space for connections, cables, and retention mechanisms.
4. Logitech Meet-Up (Small Meeting Rooms)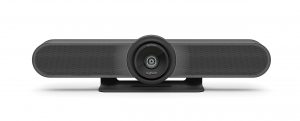 · 4K Ultra HD Camera with 5x HD Zoom.
· Full range speaker system.
· Motorised Lens with Pan/Tilt abilities.
5. Barco ClickShare (Any size room)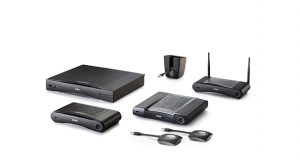 · Laptops can connect via USB Button of Collaboration App, while smartphones and tablets can connect via Mobile Apps.
· As first wireless collaboration technology to obtain ISO 27001 Safety Certification.
· Regular updates and several tools at your disposal to help maintain the quality and security of your meeting collaboration hardware.
6. Huddly IQ (Small Meeting Room)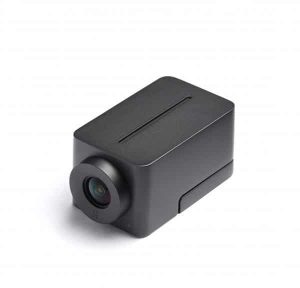 · Genius Framing, the IQ can detect the people in its 150° wide-angle field of view and respond by automatically framing them.
· Auto-adjusts to your lighting conditions so you'll always look your best, no matter where you are.
· Plug and Play ability. Easy to use.
7. Logitech Connect (Home Office / Small Meeting Room)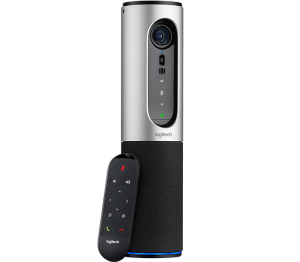 · 90° field of view with digital pan/tilt and mechanical tilt control.
· 360° Audio with 12-foot diameter range provide a quality experience so that users can hear and be heard within 12-foot.
· Bluetooth Wireless Connectivity can quickly and easily create a connection between any Bluetooth device and the integrated speakerphone.
8. Logitech BCC950 (Home Office / Small Meeting Room)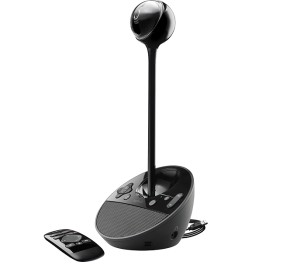 · All in one Mobile solution.
· Omni-directional speaker and noise-cancelling microphone allow all meeting members to clearly hear and be heard up to 8 feet away.
· 78° Diagonal Viewing Angle with Plug and Play capabilities.
9. Huddly GO (Home Office / Small Meeting Room)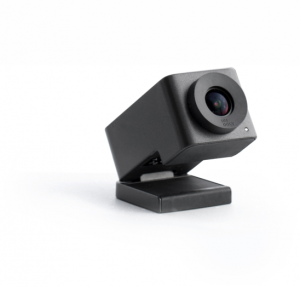 · 150° Wide Angle Camera.
· 4x Digital Zoom with 3D Noise Reduction
· Plug and Play w USB-C or USB 3.0.
10. Logitech Huddle Room Kit with HP Elite Slice.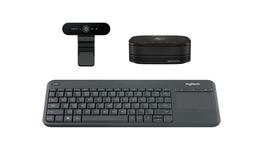 · 4K Video Capabilities.
· Camera supports infrared facial recognition software for ultrafast and secure logins.
· Media-and-meeting-room-friendly keyboard with integrated touchpad and 33ft. wireless.
Like what you see? Contact us today to get your favourite conference solution.