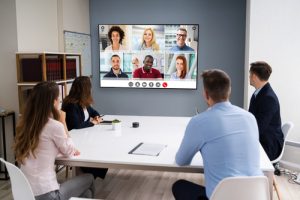 Give your conference room a new lease of life by upgrading or updating your conference room equipment with the help of Duotone. Reliable conference room equipment is now more important than ever, with some employees choosing to return to the office, and others opting to stay at home. Keep connected wherever you are with our range of conferencing solutions.  At Duotone, we have a range of conferencing solutions to suit any budget or industry. Whether your priority is closing sales remotely, or the ability to teach and train large classes from your conference room, the Duotone team will be able to find a suitable solution for you in record time. With the current Coronavirus outbreak, we aim to advise on solutions and deliver them directly to the customer quickly, to minimise downtime and get you up and running sooner.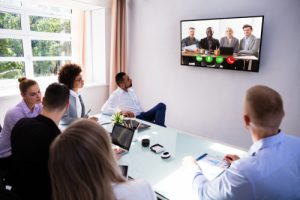 Choose from the top conferencing software available, including Microsoft Teams for Office 365 users, Zoom or GoTo remote working solutions. Our team are able to advise what will work best; taking into account your current infrastructure and overall conferencing needs.  What's more, Duotone offers free remote set-up assistance if required, so you don't need to worry about the installation process.
Coupled with the top-performing conferencing software, Duotone also offers a range of hardware solutions to complete our conferencing setup. This hardware includes options such as camera's, microphones and laptops to complement your software solution. We'll always recommend the most appropriate hardware base on your current needs, setup and budget.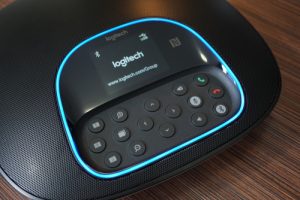 Whether it's a classroom upgrade, office meeting room update or even a hotel or event conferencing overhaul, with Duotone you can be confident that you'll be offered the best solution to suit your needs and requirements.  With Duotone, upgrading your conference room is a breeze. We offer free consultations and are also able to supply, install and offer support across all our conference solutions.
Don't hesitate to get in touch with our friendly team now to get the ball rolling on your conferencing upgrade!