ViewSonic ViewBoard: The Ultimate Digital Whiteboard Solution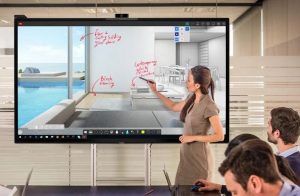 The ViewSonic ViewBoard is a flagship LED wall solution at Duotone, with the series incredibly popular amongst a wide range of Duotone clients — from the public to the private sector. The ViewSonic ViewBoard series integrates seamlessly into any environment, boasting excellent casting abilities.
The ViewSonic ViewBoard is an attractive solution, as there's no need for countless wires and connections to make the product work. This means you can keep your classroom or office clutter-free, with no trip hazards. With the ViewSonic Viewpoint, you take control of your device directly from the board.
With content sharing and interactive touch at your fingertips, ViewSonic ViewBoard displays help to better facilitate presentations, brainstorming, and decision-making. The display also boasts 20-Point Infrared Touch, delivering an ultra-smooth natural handwriting experience.
ViewBoard for Teaching & Education
Bring your classroom to the 21st century. The interactive whiteboard display allows you to deliver an interactive teaching experience, with the board large enough for multiple users writing, editing and drawing on it. This allows for dynamic presentations and creative brainstorming to help keep your pupils engaged.
ViewBoard for Work & Business
Securely connect and collaborate like never before. The display delivers the ultimate in collaborative solutions and doubles as a video conference as well as an interactive whiteboard. With ultra-fine 4K resolution, you can really wow with your quality of work. The ViewBoard is also compatible with Windows 10 architecture, to make team-using seamless.
At Duotone, we have a wide range of LED wall solutions available. To find out what LED wall solution will be best for your needs, or, if you're interested in the ViewSonic ViewBoard, contact the friendly team at Duotone to find out more about what's available.