Why Choose ViewSonic?
For over thirty years, ViewSonic has offered a range of IT solutions, perfect for both business and education. At Duotone, we stock the ViewSonic ViewBoard 2021 series; the latest and most up-to-date piece of hardware. The ViewSonic ViewBoard seamlessly integrates into any environment, without the need for countless wires and connections.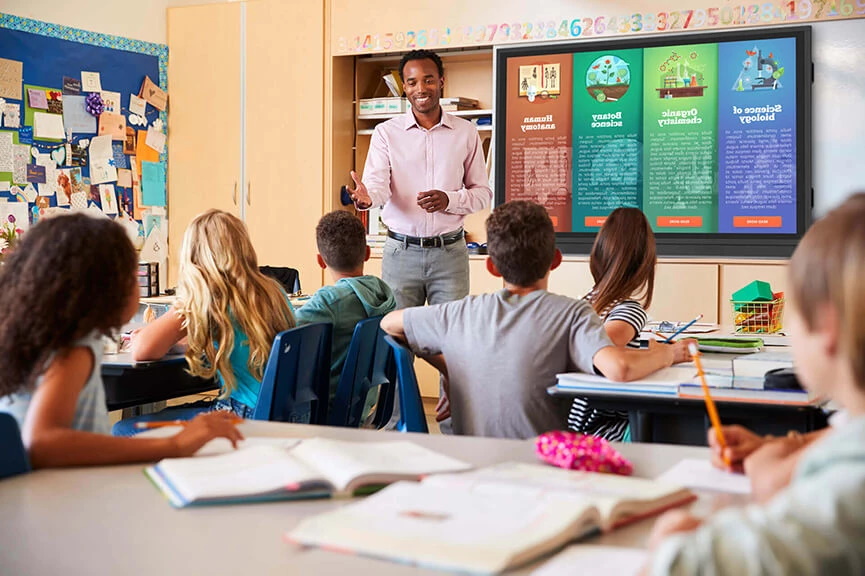 The ViewSonic ViewBoard boasts 20-point infrared touch, delivering an ultra-smooth and natural handwriting experience without the need to calibrate the board. More than just an impressive piece of hardware, the ViewSonic ViewBoard includes a wealth of software options and capabilities, suitable for the whole school.
The ViewSonic ViewBoard is designed to cater to all your classroom needs, in a more interactive and engaging way than just a projector or desktop. With 2-way HD wireless casting with touch control, and built-in browser and a USB file reader, the ViewSonic ViewBoard easily becomes a staple of any classroom looking to harness IT and technology to immerse students and pupils. Put on a show in your classroom, with the ViewSonic ViewBoard's 4k Ultra HD screen and three speakers; guaranteed to grab your classes' attention!
The ViewSonic ViewBoard includes free digital whiteboard software, G-Suite or Microsoft Office 360 sign-in options to suit your IT requirements, Google and YouTube partnership to allow easy inset of videos and images into lessons from the internet and cloud storage – meaning you never need to worry about saving your lessons for the future.
You can find out more about the ViewSonic ViewPoint here, with a full list of specifications and features included. All purchases of the ViewSonic ViewPoint from Duotone include free training, on-site or remotely, and five years on-site warranty.
Find out if the ViewSonic ViewBoard is the perfect solution for your school by contacting the friendly Duotone team here. We can provide additional information, and a no-obligation quote to get you started.