Top 10 Features of Duotone's Thermal Detection Module

1. CE Certifies and compliant with GDPR Legislation.

2. Scans temperature in 2 seconds.

3. Announces temperature indication via voice, text and a light and alarm if required.

4. Can be setup to record staff only or all users.

5. Worry free calibration.

6. Enabling mask mode will sense if users have a mask and will warn them to wear mask before proceeding.

7. Fantastic camera angle allowing varying heights to be scanned.

8. Can be used as a contactless sign in and sign out system for payroll.

9. You choose your parameters (ie. Please fail temperature reading of 37.3 degrees of over).

10. Without any IT involvement, the device can be provided ready to go / plug-and-play.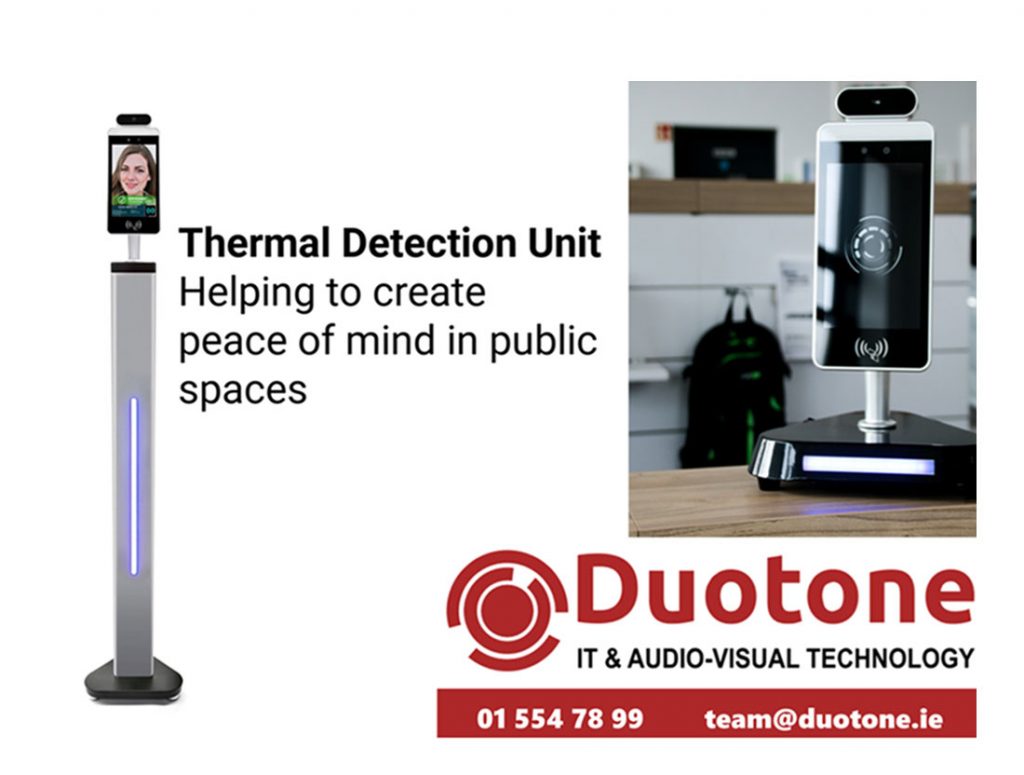 ✓ Scan staff and visitors within a few seconds
✓ Record temperature reading automatically
✓ Give peace of mind to customers and staff
✓ Own it from €19 per week
 Thermal Detection Module vs Hand-Held Temperature Scanners
Thermal Detection Module vs Key Card Readers and Biometric Fingerprint Readers
Contact us today to get the best solution for you.
Thermal Detection Module    VS.

1. Touchless

2. Zero contact bacteria spreading

3. Versatile mounting options

4. Automatic Record Keeping

5. Has a face mask request mode

6. Face and Card ability

7. Accurate to 0.2 Degrees Celsius

8. Social distancing can be abided by

Hand-Held / Mobile Temperature Scanners

1. Handheld devices are very mobile and can be carried around easily.

2. Handheld devices can scan temperatures up to 2600 Degrees Celsius.

3. Handheld devices cost less than €100.

Thermal Detection Module    VS.

1. Touchless

2. Zero contact bacteria spreading

3. Versatile mounting options

4. Can also record temperature

5. Not impacted if user is dirty

6. Can record any user

7. Has a face mask request mode

8. Face and Card ability

Key Card Readers and Fingerprint Readers

1. Card and Fingerprint readers are more readily available.

2. Card and Fingerprint reader hardware has a lower outlay cost