At Duotone, we offer digital signage solutions for the likes of schools, the hospitality industry and, more recently, the iconic National Library of Ireland. The reason these organisations choose digital signage is simple: it's a durable, cost-effective solution that can withstand interaction with thousands of members of the public each and every day.
For the National Library of Ireland, it was important to have a method of communicating with all its daily visitors. The Samsung digital signage offered at Duotone is incredibly reliable; distributing information on a brightly lit, clear screen without any downtime.
Unlike traditional signs, digital signage can handle the elements. Coated with a protective glass, the Samsung digital signage on offer can handle blunt-force without damage, meaning that whatever the area and whatever the elements, digital signage can offer a hardy outdoor solution to spreading messages and information.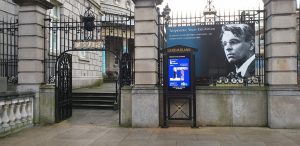 The digital signage on offer at Duotone is top of the range, with guarantees in place to ensure that your digital signage solutions offer longevity. Even traditional establishments, such as The National Library of Ireland, are opting for digital solutions to make communications with the public easy– leaving more time to focus on other important tasks for the running of the business.
Opt for a reusable, reliable and robust signage solution with the digital signage provided by Duotone. Join the likes of The National Library of Ireland by bringing in digital signage as a means of communication and information distribution, making life easier for your visitors and for your staff.
With Duotone's leasing option, you can get your new digital signage in place and installed for as little as €30 a month. Get in touch with our friendly team at the Duotone office, who will be happy to answer all your questions and provide a no-obligation quote